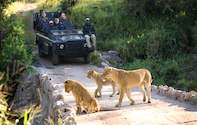 The residents of Lion Sands Game Reserve roam their homelands and frolic on the waters of the perennial Sabie River that flows in the Sabi Sand Game Reserve as well as the adjacent Kruger National Park in Mpumalanga.
Recognized as one of the finest game viewing areas in Africa due to its large density of wildlife per square hectare, Lion Sands is the ideal destination for nature lovers. Benefiting from an unfenced border between Sabi Sand Game Reserve and the Kruger National Park, Lion Sands Private Game Reserve encounters the free-roaming wildlife of each region.
Big Five Wildlife
Chances of seeing the members of the Big 5 - lion, leopard, buffalo, elephant and rhino - are excellent. In addition to these famous five, Lion Sands enjoys sightings of a large diversity of wildlife species. Various species of mammals, primates, game, rodents and reptiles, amphibians, bird and plant species reside in the region.During the early hours of the morning and late afternoon, the bush is most active due to the moderate temperatures. The active ecosystems provide a remarkable show for visitors to the bush who witness the interaction of mutually beneficial relationships as well as the conflicting relationships between the predators and their prey.The Sabi Sands is well-known for its frequent sightings of the usually elusive leopard. The mysterious cats come out into the open plains of Sabi Sands and parade around in the comfort of their untouched home. This experience is unlikely to be matched in other wildlife areas where leopards are hardly ever spotted.The habitat created by the Sabie River invites a variety of resident and migrant species to enjoy the unique vegetation. Crocodiles, hippos, a large list of amphibians and bird life such as storks and flamingos and occupy the water. The African fish eagle lurks in the sky above the river, waiting for the opportune time to descend into the river for a bite of fish.The open grasslands act as the perfect grazing fields for herds of general game. Here, safari-goers can expect to see wildebeest, bushbuck, giraffe, impala, steenbok and the interesting sites of the resident zebras.
Game Viewing in Lion Sands Reserve
Game viewing excursions are varied in order to afford safari-goers an opportunity to view their most admired species. Game drives venture into the wild in search of large mammals and game, while guided walking safaris get an intimate view of the insects, plant life and smaller mammals. River walks and boating safaris approach the amphibians, bird life and the lush vegetation along the Sabie River.