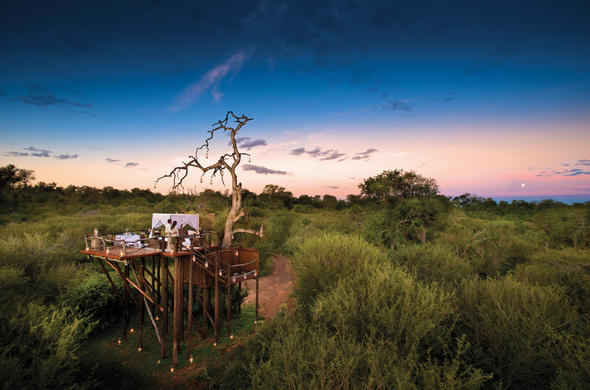 Lion Sands Private Game Reserve benefits from a secluded part of the wilderness and enjoys an area that is free from mass visitors. A magical stay in the tree tops can be experienced in one of the treehouse suites available in Lion Sands.
Family-owned and managed Lion Sands Private Game Reserve has an ongoing legacy of nature appreciation. Along with the passion the family has for nature come memories that have been passed on from the preceding generations. These memories have been recreated in the treetops of Lion Sands where its magic is extended to each and every visitor to this unique branch of Africa.The
safari lodges in Lion Sands Private Game Reserve
give guests the option of spending an enchanted night under the stars in a unique treehouse sleep out. This experience is sure to exceed all expectations of an Africa safari and will remain unmatched for many journeys to come.After spending a night in the treehouses, safari-goers will leave with a renewed spirit. The experience is sure to bring back childhood memories, and for those who have not yet experienced a tree house sleep out, exceed thoughts of what a treehouse is like.
Chalkley Treehouse
Chalkley Treehouse in Lion Sands is a piece of magic illuminating the dense and vast African wilderness. Guests' usual sleeping routines will be altered as they're serenaded by the roaring of lions and the giggling of hyenas. A ceiling of sparkling lights will leave guests at a loss for words as they gaze into an endless horizon of stars.
With a view over the Sabie River, afternoons in this elevated sanctuary will benefit from views of wildlife approaching the water for a much needed drink. Sunsets from above the plains are spectacular as the sun falls from its position in the blue sky into the unseen horizon.
Kingston Treehouse
Kingston Treehouse is a structure of supreme luxury and amazement. From its elevated wooden surface, spectacular views of the dense bush below can be enjoyed. Lit by lanterns, the treehouse is sure to highlight guests' love for the African bush. Resting against a rocky outcrop, the outdoor structure is a majestic addition to the untouched wilderness.
Experience the wilderness the way the native Africans have been doing for countless years, in full acceptance of the nothingness that African perfects. Cocktails and canapés can be delighted in while mesmerized by the wondrous wildlife that extends into an endless horizon.